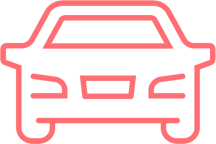 General
How do I sell my car?
Start the process by giving us a few simple details about your vehicle. From there, we'll use current market data to calculate a fair offer. The next step is to bring your vehicle to Team Gillman for in-person verification, and then we'll pay you on the spot. Easy!
Why should I sell with Team Gillman instead of a private party?
With private parties, there are no guarantees. You can't be sure you're getting the best price, but at Team Gillman, we back up our offers with data for added peace of mind.
Where can I find the VIN number?
Find your VIN on one of these places:
INSURANCE CARD
DMV TITLE OR REGISTRATION
RECENT CAR SERVICE RECEIPT (E.G. OIL CHANGE, OTHER SCHEDULED MAINTENANCE, ETC.)
DRIVER'S SIDE DASHBOARD (VIEW FROM OUTSIDE THROUGH WINDSHIELD)
DRIVER'S SIDE DOOR JAMB
Is there a cost to get an offer through Team Gillman Buying Center?
No, your offer is completely free. Plus, we'll buy your car even if you don't buy one from us.
About My Car
Will you buy my salvage title car?
Yes. Salvage-titled vehicles are typically purchased at 50% of their worth due to significant damage.
Can I sell you a leased car?
Yes. Your first step is to contact your lease holder to get the current payoff amount. Please note that banks and other financial institutions may charge additional fees for early termination, which would impact your total profit.
Will you buy my car even if I don't buy new from you?
Yes! We're happy to buy your used car no matter what.
Will you buy my car even if it has physical defects such as dents or hail damage?
Yes, we are open to buying cars in need of reconditioning, but any damage must be disclosed during the quote process. Please be sure to include photos and/or descriptions of any body damage with your submission. Otherwise, your offer may not stand during the in-person inspection.
I lost my title. Can I still sell you my vehicle?
Yes. Our team will walk you through the process. Contact us to get started.
The title holder on my car is deceased. Can I still sell to you?
Yes. Other dealerships may not offer this service, but we can guide you through the appropriate steps.
A different family member's name is on the title but I own the car. Can I still sell to you?
Yes. Bring your family member in to fill out some paperwork, and we'll sign the check over to you.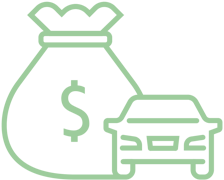 Offers and Payment
How is your offer price determined?
We use data from Kelley Blue Book to determine a fair, competitive price based on your vehicle's make, model, and history.
Is your offer negotiable?
Yes. While we're confident we're bringing you the strongest possible offer for your vehicle, we may be open to further discussion on a case-by-case basis.
What if I owe more on my car than the total purchase offer?
This creates a negative equity situation, otherwise known as being "upside down" on your loan. In this scenario, we pay your lending institution our offer amount and you would need to pay the difference in order to be free and clear.
How long will it be before my bank receives payoff?
We fund your payoff immediately, though it can take a few days for your bank to process the transaction. For this reason, we typically quote a 10-day payoff. We cannot resell your vehicle until we have the title, so we move this process along as quickly as possible!
Can I get paid in cash?
No. For safety reasons, we do not keep large amounts of cash on hand. You will be paid with a check.